Additional Learning Opportunity - 2.5 CE CREDITS
Solving the Class II Conundrum
Friday, February 3 | 1:30PM - 4:00PM
ABOUT DEVIN MCCLINTOCK, DDS
Dr. Devin McClintock is a graduate of the State University of New York at Buffalo School of Dental Medicine (2016), where she graduated with honors and a minor concentration in esthetics. Since graduating, her dedication to continuing education has not ceased. After completing two years of General Practice Residency and a year as an associate in a private practice, she was one of a few residents selected to complete a two-year residency with the American Academy of Cosmetic Dentistry. Currently, she is an associate at a private practice in Williamsburg, VA. When not practicing, she enjoys continuing her education by attending courses at the Kois Center in Seattle, WA, as well as assisting with the imPRES lecture series in Charleston, SC.
Posterior composite restorations are some of the most common, yet complex restorative procedures we face as clinicians. Therefore, to ensure long-term success for our patients, it is essential to develop reliable and consistent systems and protocols.
In this hands-on course, participants will learn predictable techniques to improve and master class II restorations both esthetically and functionally. Participants will learn how to properly evaluate and treatment plan cases,
as well as be guided through step-by-step hands-on instruction centered on simplifying the restorative process to maximize success.
Hands-On Learning Objectives:
Learn how to predictably evaluate, treatment plan, and approach posterior class II restorations

Learn how to ensure superior interproximal contacts and adaptation with Dual Force sectional matrix system

Establish maximum bond strength and seal to ensure long-term success of class II restorations
Mandibular Quad Model with Class II prep; Sectional Matrix Bands; Dental adhesive 5 ml; Flowable composite, single dose; Restorative composites, single dose; Anterior/Posterior Composite instrument REJ#10; Pre-Molar Ring with dual nickel-titanium wires; Active-Wedges; Diamond burs; All Surface Access Polishers, small; Flexible finishing discs; Microbrush; Dappen dish; Mandrel.
Join Devin McClintock for an additional afternoon learning opportunity offered on Friday, February 3rd
from 1:30 - 4:00 pm. Space is limited, register early!
2.5 CE Credits
AGD Subject Code: 250
Tuition: $199* - Technique Kit Included and yours to keep!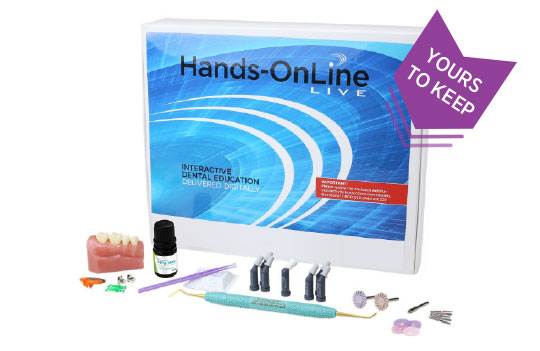 *Not included in Aruba Dental Conference Tuition
Join us for the 7th Annual Aruba Dental Conference 2023
days
hours
minutes
seconds
days
hours
minutes
seconds